Dear fellow Labor member: We know we are writing at an extraordinary time when many of us are living under stress, and we witness the extraordinary work of our health and essential workers. It is just another reminder of how important it is to elect and support Labor Governments in their work.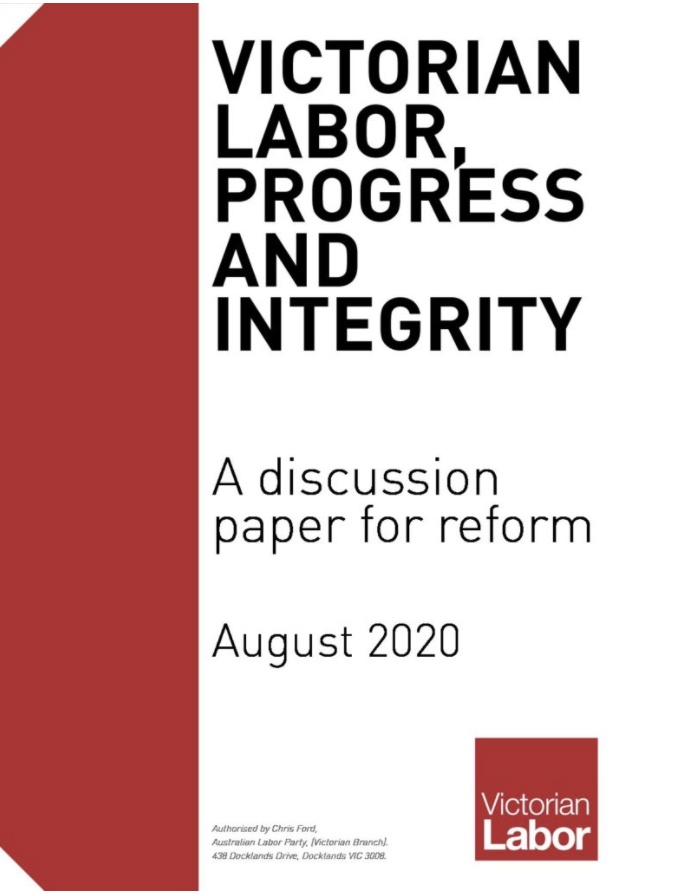 We thought we would take this opportunity to update you on our work as Administrators of the Victorian Branch of the Australian Labor Party.
We appreciate there is a lot of content here – but there's also a lot going on, and we are keen to update you at this busy time.
The Discussion Paper – Victorian Labor, progress and integrity
We circulated the Discussion Paper in late August to seek your views on what is needed to make sure that our Party is a Party of integrity fit for the challenges of 2020 and beyond.
More specifically, we want to hear about your motivation for joining the Party, how your aspirations for participating in the Party are being met and how we can all do things better.
The Paper is based on ten topics, each coupled with a small number of questions for your response. You may respond to all or some.
We also know that branches and other groups are providing online forums and discussions to consider the questions posed. We encourage you to take part in these discussions.
The simplest way to respond is to visit www.viclabor.com.au/change and provide your submission by 14 October 2020.
For your convenience, a copy of the Discussion Paper is available here.
Changes to the Victorian Branch RulesIn our Scoping Report to the National Executive submitted at the end of July, we recommended a number of immediate rule changes. Those changes have now been implemented by the National Executive of the Party exercising the plenary powers set out in the Party Constitution.
The first group of changes relates to prohibiting cash and cash-like payments, and a new requirement that payments for memberships and renewal be made exclusively through traceable means.
This change means that any membership renewals which have not yet been received or been processed need to be paid by traceable means. This means that to renew your membership you will need to do one of the following:
· Pay by your credit or debit card online at www.viclabor.com.au/membership/renew/
· Pay by your credit or debit card by calling our membership renewal hotline on 03 7019 9500; or
· Downloading a direct debit form from www.viclabor.com.au/resources/ and returning the form via scan or post.
It is also acceptable to pay by mailing a personal cheque to PO Box 1073 Collingwood Vic 3066, however, because of the Stage 4 restrictions and delays with Australia Post, we ask that you only do so if none of the above listed options are available to you.
Second, a revision to the definition of branch-stacking has been made. The new definition better captures activity relating to membership renewals, transfers, and applications between branches engaged for the predominant purposes of influencing the outcome of ballots of members within the party and enrolling and retaining non-genuine members.
Third, a change has been made relating to sub-rule 5.17.1.1, which provides a definition of "genuine member". That is, a genuine member means a person who:
• agrees by their own affirmative act to become and remain a member of the Party
• complies with the membership pledge stated in Rule 2.5; and
• pays their own membership fee by traceable means
Fourth, consistent with the National Executive's commitment to "make rule changes in the short term, to ensure the Branch membership comprises genuine, consenting and self-funding members", a set of temporary rules, which only apply for the period of the Administration, have been approved.

These include, among other things: a definition of the Administration and the Administrators; mechanisms to deal with pending applications and renewals that were not accompanied by payments by traceable means; and changes to the Disputes Tribunal.
It also includes mechanisms to deal with:
• members who the Administrators allege have engaged in branch stacking;
• members who the Administrators suspect have provided false or misleading information about their own, or another's membership, renewal, or transfer;
• members who the Administrators suspect are not a genuine member;
• members who the Administrators suspect are a member for the predominant purpose of influencing the outcome of internal ballots; and
• members who the Administrators suspect fail to comply with resolutions passed by the Administrators.
The revised rules are available on the Party website.
Membership Audit
One of our duties as Administrators is to conduct a membership audit to ensure our members are genuine, consenting, and self-funding. Such members are the lifeblood of our Party. By undertaking this audit, we can ensure that the Party continues to grow and that we are best placed to elect Labor Governments and Councillors who can deliver on our desire to build a fairer society.
We have directed Deloitte's forensic audit team to investigate the integrity of our Branch membership. The initial stage required detailed analysis of membership profiles .
The second stage is to review the specific membership details of individual members.
This review relates to a minority of the Branch membership.
Some of you will have received an email, text or a posted letter in recent days, or may do so in the next week. We have contacted you based on the contact details held at Party Office.
We want to stress that we make no pre-judgement in doing so – we know bona fide members may be surprised to receive these communications from us. We greatly value your assistance and support for the process we are undertaking.
As a Party member, you have a range of specific membership requirements under the Party Rules. One specific requirement has been established on the basis of Party rule 8.1.2.13 and a formal resolution of the Administrators on 28/8/20:
The Administrators, in order to facilitate the audit being undertaken by Deloitte, hereby exercise the powers of the Administrative Committee under sub-rule 8.1.2.13 and direct all Party members to cooperate with the Deloitte audit process including, without limitation, by providing relevant documents and information, including an email address and mobile phone number, and answering questions whether in writing or orally.
As part of this process, we ask those contacted that you complete the requested stages set out in the correspondence.
If there is a legitimate reason you cannot complete this process, please use the contact details provided to request assistance.
It is essential that this process is completed in a timely fashion to help restore confidence in the integrity of our membership list and our internal processes.

New Disputes Tribunal
To ensure we have arrangements fit for purpose, we have renewed the Party's Disputes Tribunal.

Firstly, can we thank the three outgoing members of the panel – Anna Burke, John Speight and David Cragg – for their contribution and commitment in an often thankless task. They are lifelong and dedicated servants of the Party and we are lucky to have them in the movement.
As part of the new Party rules, a member of the Panel will now be designated as President. The President will nominate a member of the panel to preside, or they may decide that all three members of the panel will hear a matter.
The three new members are all distinguished Victorians, with judicial experience and are current members of the Party.
The three new members of the Disputes Tribunal are:
President – Professor the Honourable Kevin Bell AM QC.
Kevin is the Director of the Castan Centre for Human Rights Law and Professor in the Faculty of Law at Monash University, and was previously a Justice of the Supreme Court of Victoria for 15 years.
Member – Professor Kate Auty
Kate is a former Magistrate in two States, a Professorial Fellow at the University of Melbourne and has practiced as a barrister and lawyer.
Member – Ross Howie SC
Ross is a former Judge of the Victorian County Court.
We thank them for making themselves available for this important work.
A final word
All of these measures are important to ensuring integrity in our arrangements, and creating a platform for renewing and revitalising the Labor Party in Victoria.

We will also be hosting a webinar with members to hear your views on the reform process on Thursday the 24th of September at 7pm. You can click here to register, and a formal invitation will follow next week. We look forward to hearing your ideas for the future of our party.
We thank you for your shared commitment and support
 In solidarity
                    
Hon Jenny Macklin                                         Hon Steve Bracks AC