1 Feb 2019: Last December, James Button traveled to the 2018 ALP National Conference in Adelaide as one of four non-aligned delegates at the conference. In this report, he lays out his observations and comments on how Open Labor and the non-aligned movement can approach future conferences.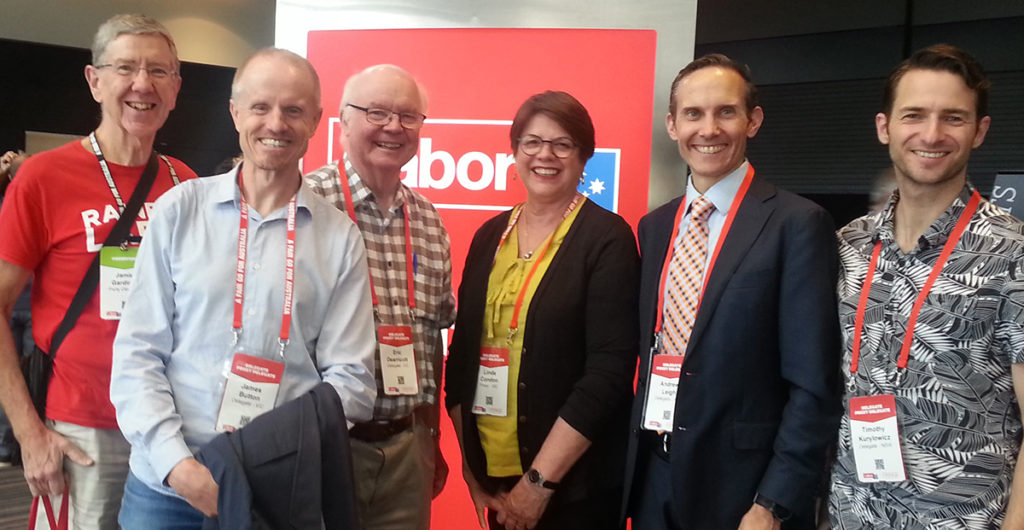 Thanks to the votes of many Labor Party members, I was a non-aligned delegate from Victoria at the ALP National Conference, late last year.
Here is a report on what I saw, did and learnt at Conference (my first as a delegate), and what the Conference meant for policy and for party reform. Though I was elected as an Open Labor delegate, these views are my own. The party can be a mystery, even to insiders, and I've tried to write this piece for readers (like me), who lack the secret knowledge. I've also focused on the role that party reformers, especially those who are not aligned with a faction, can play, both at Conference and in the party. If you have thoughts after reading this, I'm keen to hear from you.
Anyone who wants a crash course in how the Labor Party works, and who pulls the levers, should attend a National Conference. Unlike the Greens' conference, our triennial event is open, which means you'll find stalls for activist groups on the environment, nuclear weapons, abortion, Palestine and so on, and there are demos inside and outside the hall. "The Fringe" is a series of typically lively forums on various issues, while in the lobbies delegates and activists get to mingle with shadow ministers, who are shadowed in turn by suits with muscles, and cords attached to their ears. But security can't stop a bloke in a black 'Raise Newstart!' t-shirt getting his moment to bellow in Chris Bowen's ear, "You dog, Bowen!" It's democracy: noisy, sometimes ugly, and sometimes vibrant – up to a point. Of course, most big decisions are made in advance and behind closed doors.
Nevertheless, the fact that activist groups such as the Asylum Seeker Resource Centre or the International Campaign to Abolish Nuclear Weapons put huge effort into lobbying delegates to vote in certain ways, or that shadow ministers and factional negotiators will hammer out the precise wording of motions until minutes before they are put up for delegates to debate, suggests that Conference does matter.
Conference is where the party platform, largely shaped by shadow ministers but up for formal endorsement or adjustment, is put to delegates, about half of whom are elected from ordinary members, and half elected by affiliated trade unions. At least in theory, Conference is an opportunity for the party to think about, and perhaps to change, how it works.
Choreography, not conflict: Conference votes
As many have noted, this Conference was highly choreographed. With a federal election four months away, no one wanted a public blue. Whatever divisions lie beneath the surface, on sensitive issues such as asylum seekers and the nuclear weapons ban treaty, delegates from Left and Right went out of their way to praise the work of their factional counterparts to reach an agreement that both sides could accept. Of course, time in government will test the strength of the deals, and the ultimate policy outcomes.
With about 205 of the 397 ordinary member and union delegates, the Right had a comfortable majority over the Left in 2018. Unlike in 2015, non-aligned delegates did not hold the balance of power, except in the vote for National Executive. It meant that over three days, delegates voted only twice: on a Left amendment to introduce a Charter of Human Rights, and in the election for National Executive. The only other contest on the floor, which did not go to a vote but was decided on the voices, was an aspect of asylum seeker policy that I cover in an article I wrote for John Menadue's blog, Pearls and Irritations.
I was unable to attend the vote on the Left's proposal for a Charter of Human Rights, which was in any case defeated by three votes. In the election for National Executive, I voted for the Left ticket. I did that to try to ensure that the 20 elected members were evenly split between the two factions, rather than the Right clearly dominating. History suggests that an evenly balanced Executive – and party too, in my opinion – produces better results, not only for reform of the party but also for policy. And I admire the work of Andrew Giles, a convener of the Left faction, who has pushed hard and over a long time for party reform.
The election did indeed return 10 members from each faction, although the Right still controls the Executive through Bill Shorten's casting vote as party leader. Sadly, that result meant that Tim Kennedy, an impressive trade unionist from the National Union of Workers, on the Right of the party, was not elected.
Policy at Conference
With a few caveats, I think it was a good Conference for the party. I've written up my thoughts on specific aspects of the policy platform in this piece for John Menadue's blog, Pearls and Irritations, and a few more observations follow here. If you'd like more detail on any particular policy issue, send me an email at this address.
Climate change
Despite the passing of a resolution acknowledging that we are in a climate emergency, global warming was not a major theme at Conference, and the Adani mine was barely discussed. This piece by academic Frank Jotzo shows that though Labor has good policies it needs to go much further, with a proper carbon price remaining the best way to get emissions down across the economy, as politically tough as that is.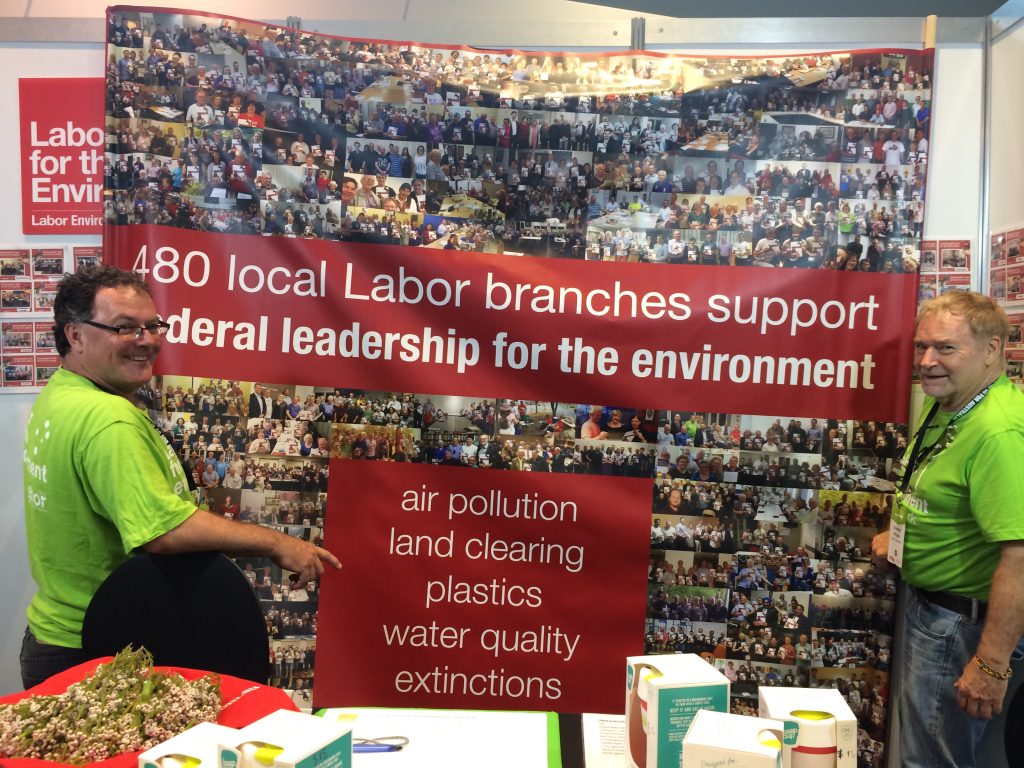 Constitutional recognition of First Australians
It's great that Labor has now committed to a referendum on constitutional recognition of First Australians, including the creation of a Voice to Parliament, enshrined in the constitution, that would enable Indigenous people to advise on laws affecting them. But the party has set no time frame for the referendum, which would hardwire the decision of the people into the Constitution. At one level that's understandable — support for a successful referendum needs to be built — but it also raises the risk that in government Labor will legislate the Voice to Parliament then say that a referendum is too hard. This approach would leave the new body vulnerable to abolition by a future government. It would also fail to take the opportunity created by the extraordinary unity shown by Indigenous representatives in producing the Uluru Statement from the Heart. That opportunity is to properly write First Australians into the main document of the national story, not only with nice words but with a body that could give them a real say in decisions affecting them.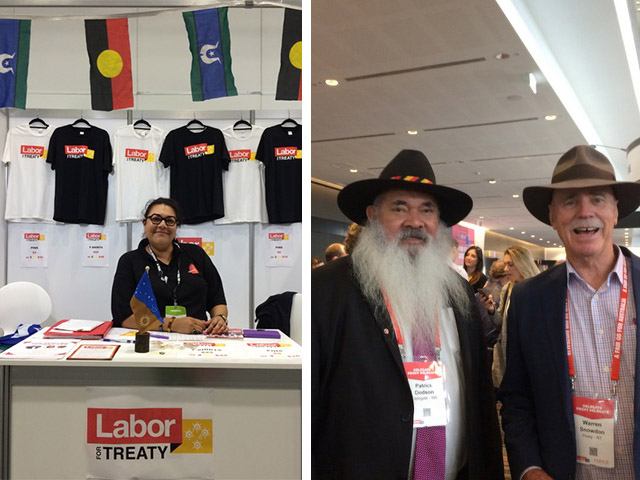 Developing party policy
The role of Conference in developing party policy is complicated. Over three days, delegates debate each chapter of the draft party platform and propose amendments. However, the real work is done in the previous three years, when the National Policy Forum writes the draft platform.
A third of the members of the National Policy Forum are directly elected from among ordinary party members, a third appointed from among federal MPs and a third from affiliated trade unionists. So there is an opportunity for ordinary member input, although in reality policies are developed by the relevant shadow minister's office, in liaison with the National Policy Forum. This is understandable, yet it is clear that shadow ministers and MPs provide access to hear the views of internal party groups such as the Labor Environment Action Network, Rainbow Labor, Labor for Refugees and others. Outcomes from these discussions have differed over the years but some of these groups can point to real successes in changing the party platform.
The platform is meant to bind the party in government. It would be interesting to see a study on how much of it is enacted, yet its importance is underlined by the battles – in 2018 mostly behind closed doors – to ensure that certain forms of words are adopted in certain policy areas, or that some commitments are kept vague enough to give future ministers wriggle room in government.
Organised ordinary members can make a difference
I saw small ways in which ordinary members can have an impact at Conference. Tim Kurylowicz, a non-aligned delegate from NSW, got up a motion to add the plan for a Melbourne-Sydney-Brisbane High Speed Rail to a list of priority investment projects, and another to enable general psychologists, as well as psychiatrists and clinical psychologists, to assess eligibility for the Disability Support Pension on mental health grounds. The latter matters in a city like Tim's home, Wagga Wagga, which has almost no psychiatrists and clinical psychologists.
Of course, getting up amendments to the party platform doesn't mean change will happen, but shadow ministers do pay attention to motions at Conference. When Victorian proxy delegate Linda Condon filed an amendment to create a professional organisation for VET teachers, the relevant shadow minister, Doug Cameron, invited her in for a meeting. While he said he couldn't support it because it had come in late and because it contained a financial request, he nevertheless listened to her argument, and invited her to submit her case to an upcoming review. Nevertheless, it's clear that if you want to get a policy motion up, you need to get organised and try to get support from the factions well ahead of Conference. By the time Conference arrives no one wants to be surprised.
Conference and party reform
More votes might have occurred in the last session of the third and last day, but the Agenda Committee cancelled what is known as "the rules debate", which concerns how the party makes decisions internally and who gets to make them. At first, the cancellation looked like an act of anti-democratic skulduggery, but on reflection, I'm not sure: on the day before the debate the committee had received 52 motions for reform and there was no chance of debating a fraction of these in the time allowed. A new, and sensible, process is planned that would require proposed rules changes to be submitted a month before Conference. The party should also allocate more time for the rules debate — and make sure it happens.
Non-aligned delegates put up two motions to the rules debate. The first concerned giving ordinary members in every state and territory at least 50 per cent of the vote for Senate candidates. my newsletter of November 27I think this is a vital reform. Had the motion made the floor of Conference, it would most likely have been lost on the voices, with the Left behind it but the Right, which had the numbers, opposed.
The second motion, concerns establishing a permanent body, elected from among ordinary members and affiliated trade unionists, to examine ways to grow membership and make the party more democratic. Here the signs are much more hopeful. At Conference senior figures in both Left and Right said they supported establishing the body, at this stage to be known as the National Forum for Party Growth and Engagement. Bill Shorten also seemed to be onside. Because creating it would not require a rules change, National Executive could establish it at any time from February. We'll keep you posted about that one.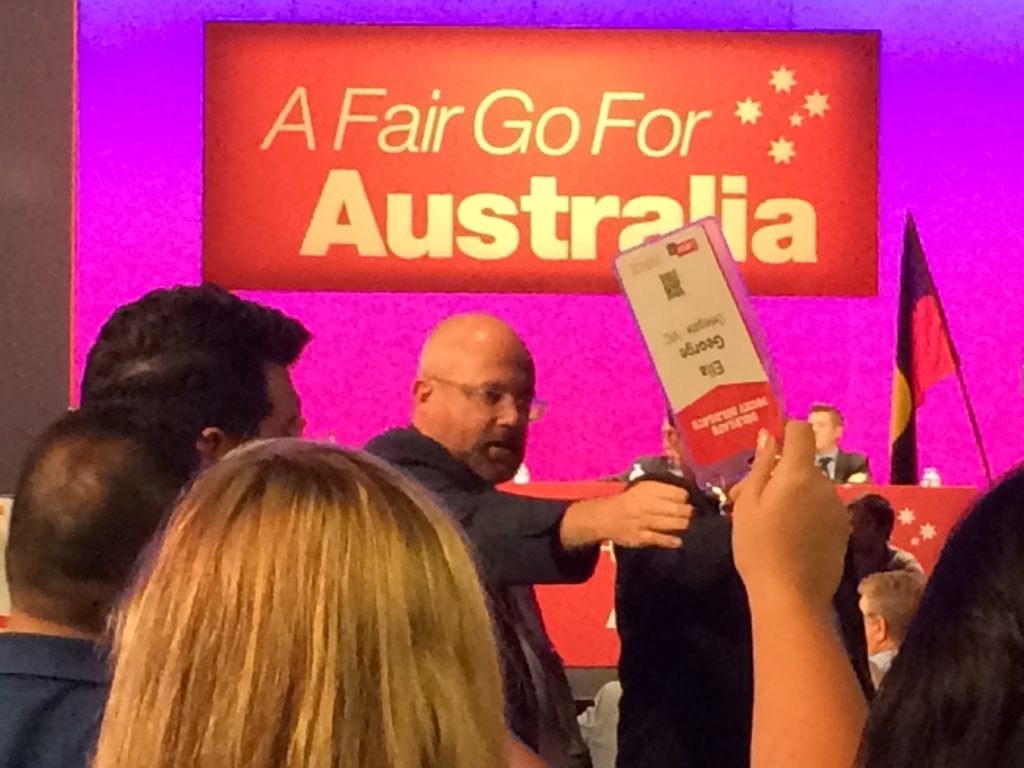 What future for an independent movement inside the ALP?
I was struck that in a Conference of nearly 400 ordinary member and union delegates, the voting members of our non-factional caucus numbered exactly four: Andrew Leigh (ACT) Eric Dearricott (Victoria), Tim Kurylowicz (NSW), and me. There were rumours and sightings of five non-aligned Queensland delegates, and Eric had a very productive dinner with them, with discussion planned to continue. But let's be honest: we are a small band. Do we keep going? Or do we kick back on the couch with our box sets of Borgen and West Wing (though not House of Cards), dreaming of Jerusalem?
At the end of Conference, non-aligned delegates discussed a plan to win a spot on National Executive at the next National Conference, due to be held in 2021. Despite our small numbers, this is feasible. The fact that Eric Dearricott topped the poll in the Victorian election for National Conference delegates, while the Open Labor ticket came eighth of 158 candidates, is just one sign of support for a more open, democratic party. We'd have to organise nationally, and grow a lot, but we could do it. The bigger issue is: why would we do it? What do we hope to achieve?
Is it about achieving policy change? That's not simple. Anyone who has attended Open Labor meetings will know that it's a long way from a lively debate to making anything happen in the party. And as I've said, groups already exist within the party to lobby on specific issues.
One reason for the non-aligned movement to keep going is simply to try to increase the number of people in the party, and to broaden their range. If Conference is any guide, the range of party members is still too narrow, the cross-section of Australians they come from and represent too small.
It's clear that trade unions are central to the party's future. In many areas, the goals of the labour movement and party are strongly aligned. Without unions, the ALP would have an even narrower base than it does, mostly made up of middle-class activists in the inner cities and not much different from that of the Greens.
That said, at Conference the party-union embrace often felt too tight. Former ACTU Secretary Bill Kelty made sense when he said at an Open Labor meeting a few years ago that while he had been a trade unionist all his life and would always champion the labour movement, the party — in its platform, policies and people — had to be bigger than the movement.
The difficulty for reformers is that a larger ALP membership would mean a dilution of union power, and probably of factional power. That means that change would be fiercely resisted – unless, perhaps, ways can be found to involve not only ordinary party members, but ordinary members of affiliated unions, in the workings of the party. While the ALP has just over 50,000 members, unions affiliated to the party have about a million. (There's another million in non-affiliated unions as well.)
Maybe the ALP cannot be made more open and democratic without also democratising the link with the unions. Greg Combet in his book, The Fights of My Life, and John Faulkner in his 2014 Revesby Workers Club speech are among those who have suggested ways it might happen. It's also something that a new National Forum for Party Growth and Engagement, if it comes to be made up of ordinary members and affiliated union members, could explore.
Thank you
I want to acknowledge the pleasure of working with Eric Dearricott, Andrew Leigh and Tim Kurylowicz, proxy delegate Linda Condon, and fellow travellers Jamie Gardiner of Rainbow Labor, Pauline Brown of Labor for Refugees and Marg Dearricott. Our Adelaide caucus met every morning to discuss the day ahead and what positions we might take. People put forward their views but listened to others', and no one sought to strongarm anyone else. As Eric said at the public meeting we held on December 8, we consult widely, and reflect our supporters' views when we can, but make our own decisions.
I get why factions exist, and both of them contain good people. Yet as I voted for National Executive and watched factional delegates dutifully hand over their ballot papers to be filled in by their factional and sub-factional chiefs, I felt once again that at our party needs more voices, more angles, more ways of working. We need more diversity in the Labor ecosystem. The group I worked with in Adelaide helped to provide it. They represent the best of the independent spirit.
Finally, thank you all for your interest and support, and do get in touch if you want to discuss anything above. Here's to a big election win soon, and some big changes after that.